The Business Leader's 5 Keys to Fostering Wellness to Benefit People and Boost Business.
According to a new survey, your employees may be considering quitting because they believe you are unconcerned about their mental health.
Could they be correct?
Workers are resigning in unprecedented numbers to "put themselves first." A recent McKinsey analysis investigated the 'Great Resignation' phenomenon by surveying employers and workers in Australia, Canada, the United Kingdom, and the United States. They reported 40% of employee respondents are "at least somewhat likely to quit in the next three to six months." It also found that a third of employees may consider changing employment precisely to improve their mental health.
There Has Been A Noticeable Shift in Power as Firms Struggle with A "New Normal".
Employees are more confident than ever about what they will and will not accept at work after a year and a half of uncertainty. New expectations have arisen as a result of stress, burnout, and isolation.
Employees are more than willing to explore opportunities elsewhere if organizations cannot or will not place the human at the center of work.
Why Is It Happening: What's Driving the "Great Resignation"?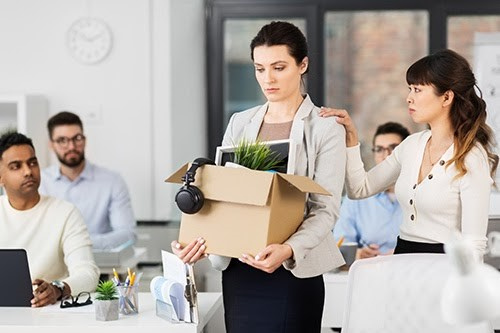 Workers are casting their ballots with their feet. In September alone, a record 4.4 million employees quit their employment in the US, while over 4.2 million people gave their notice in August.
The Great Resignation has several causes, including low pay and poor working circumstances, but it nearly always has a substantial wellbeing component.
Workers quit the workforce because they are unhappy with the opportunities it provides. They don't find meaning or purpose in their work, and they believe their working environment affects their physical and mental health.
At one end of the scale, too many workers don't earn enough money to live on while providing vital goods and services. As a result, they lack basic financial wellness, making holistic wellbeing a pipe dream.
On the other end, some earn very good pay yet work in conditions that are harmful to their health. In such circumstances, organizations frequently employ one-size-fits-all "wellness initiatives," which are often akin to putting a band-aid on the problem rather than addressing the core reasons.
Why Should Employers Care?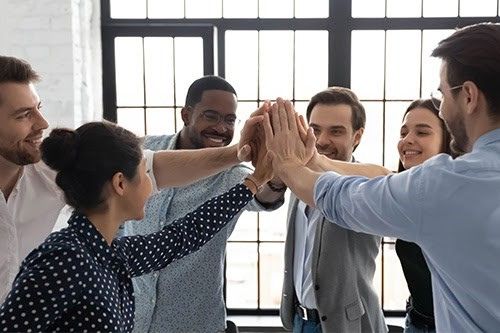 The mental health crisis among workers is real and growing; supporting employee mental health and wellness is good for company culture and productivity.
Harvard researchers found that for every $1 we invest in supporting employee wellness in the workplace, there is a $6 payback—a huge 6:1 ROI.
It starts at the top. In the same way that firms have embraced environmental, social, and governance (ESG) challenges, workplace wellbeing must become a management priority.
We all know that physically healthy employees make for better businesses. We can say the same for businesses that have mental health resources. According to recent data, three-quarters of full-time employees (75%) reported at least one mental health symptom last year, up from 59% in 2019.
Mental health in the workplace should be more than a safety net in the post-pandemic world. It is a key generator of shareholder value and productivity, vital in the competitive talent-market.
In this season of Great Resignation, organizations who break the code of wellbeing in this new paradigm of hybrid work—banishing the outmoded stigma around mental health and empowering everyone to show up as their best selves—will have a competitive advantage.
Below, we explore how companies can utilize wellbeing programs, platforms, and initiatives to better support the mental health of employees.
Stemming the 'Great Resignation' Tide
Employers Need to Bolster Mental Health Offerings
Let's look at how wellness initiatives can help organizations go from the 'Great Resignation' to the Great Retention.
Here are 5 ways leaders can foster wellness cultures that benefit their people and boost the workplace.
Make relevant resources available
Current wellness solutions rely primarily on professionally qualified mental health and wellness specialists, and there are simply not enough of them to fulfill demand.
However, through applications, self-care tools, on-demand coaching, and tailored services, the rise of digital technology has helped to put wellness programs in your employees' pockets.
According to a Mercer survey on digital healthcare innovation, a third of companies plan to grow their virtual or telehealth solutions as part of their employee support benefits in 2021 and beyond. Using digital technology to create employee-focused workplaces is a great place to start.
As businesses, particularly SMEs, struggle to adapt to digitalization, a growing variety of platforms and applications are being used to not only streamline projects and communications but to improve employee wellness.
JPMorgan Chase currently provides 'mHealth' services through its meQuilibrium platform, which educates its teams about healthy lifestyle choices.
Adobe, WW, Unilever, and Starbucks are just a few of the companies that provide wellness programs to their employees as part of a larger drive to promote a more holistic approach to health.
Are you offering the correct support to your employees so that they can contribute their best?
Develop new leadership skills
According to data, employers must overcome two underlying obstacles in their drive to build environments where employees may seek help for mental health concerns – stigma and awareness.
Unum Group's pre-pandemic research discovered that just one out of every four US managers were trained on how to refer employees to mental health services. That isn't mental health training; it is simply training to direct people to the appropriate resources.
More than half of employees stated their employer did not have, or were uncertain if their company had, a mental health program, initiative, or policy in place. Furthermore, 61% of employees believe there is a social stigma in the workplace towards co-workers with mental health concerns.
Organizations might benefit from leadership training to help them overcome outdated and unproductive mindsets. Blisspot's leaders and wellness specialists can help teams or individuals develop open and honest cultures that remove the stigma associated with discussing mental health at work. We can even take it to the next level and make it a collaborative and fun employee engagement opportunity to foster teamwork, collaboration, and open communications.
Of course, no amount of training will assist if senior leadership isn't willing to walk the walk. How do you deal with stress and pressure as a business owner or manager? Do you discuss it openly with your team?
Target burnout as a wellbeing champion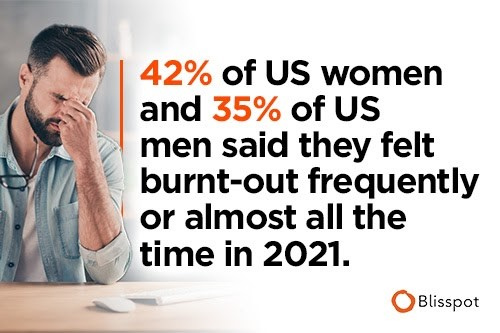 During the pandemic, a concoction of work-related stress, exhaustion, cynicism, and negativity is surging. According to a recent McKinsey report, 42% of US women and 35% of US men said they felt burnt-out frequently or almost all the time in 2021.
For a long time, burnout was thought to be a worker's problem, one they needed to address if they were to succeed in the "rat race".
There are dozens of studies and even more articles devoted to helping employees overcome burnout. Mindfulness and meditation can assist. Getting social support can help. Tailoring your job to align with your interests and principles can be good. However, none of these tactics will ever be successful if the worker bears all responsibility.
Cultural shift
Companies can change their mindsets about mental health. The fact is that mental health is not an individual issue, and businesses must recognize that it is a business issue.
We have established a narrative around wellness as a personal problem that can be solved with the help of rewards and perks. In truth, mental health is inextricably linked to how a company functions and how its employees are valued.
Organizations must begin to help workers, especially in light of the Great Resignation debate.
According to a new study by Mind Share Partners in partnership with Qualtrics, "there are clear correlations to employers losing talent due to unsupported mental health challenges."
Half of respondents (50%) have left previous jobs owing to mental health issues, at least in part.
This is up from a third (34%) in 2019, representing a 47% rise.
The percentage increases to 81% for Gen Z and 68% for Millennials, who make up the bulk of the workforce.
Because the 'Great Resignation' is a reflection of shifting ideals, it necessitates a shift in organizational culture to address it. However, rather than fostering a positive work experience itself, we're seeing far too many businesses entice people back into the office with free ice cream and monetary incentives—some even issuing ultimatums.
Understanding how employee needs, goals, and expectations have changed is critical to mitigating the consequences of the 'Great Resignation'.
Demonstrate that your business cares. Ultimately, the 'Great Resignation' isn't a problem for employees to solve. Employers determine how much they value their people in addressing the issue.
Invest in meaningful programs
Band-aid solutions concentrating on coping methods and the temporary relief of symptoms, such as mental health days, are the most prevalent corporate tactics for employee mental health. While these are a decent start, employees require more to genuinely feel supported. Organizations must seek to normalize mental health dialogues and provide workers with targeted, personalized wellness programs that address their unique needs on a daily basis.
"The past year has highlighted the impact mental health has had on so many of our colleagues and employees," said Julia Anas, Qualtrics Chief People Officer. "Whether employees need someone to talk to, flexibility to take care of themselves, their families and friends, or recognition for their success, it's imperative that company leaders listen and understand and lead with empathy in helping employees find solutions. Each individual is unique, so there is not a one-size-fits-all approach, but it starts with listening, followed by taking action."
Blisspot provides world-class tailored and personalized wellbeing resources to match you and your employees' specific needs. This can be in the form of one-to-one sessions with experts, to courses, challenges, and meditations employees can explore at their own pace, available anytime, anywhere 24/7.
Consider developing a comprehensive staff wellness program to realize a big return on investment. You not only have a happier and more motivated workforce, but you also recruit superior talent. Employees have all the cards in today's labor market. Employers must provide more than competitive compensation to attract and retain great personnel.
The "Great Resignation" Is An Opportunity for SMEs
The "Great Resignation" is going to change things up, especially for small and mid-sized firms. Staff are resigning in historic numbers, owing to pandemic pressures and the realization that they do not need to waste their time commuting to jobs they dislike.
As many large corporations enforce a return to the office, by utilizing their agility, startups and SMEs have a unique chance to rethink their working methods and fully embrace employee wellbeing programs.
You can use this benefit to recruit great talent that was previously financially out of reach. SMEs can write their own 'future of work,' compete with the giants and become appealing propositions for people that prioritize wellbeing and happiness over salary.
Small and medium-sized businesses have traditionally prided themselves on giving employees a stronger sense of unity with the company's purpose and a more personal, close-knit work environment than larger corporations, but the research shows that this is no longer enough to recruit and retain talent.
Employee wellbeing has fallen, especially among employees at companies with less than 50 people, with only three out of ten workers expressing high levels of wellbeing, according to Guardian's Workforce Wellbeing Index score.
Small and Medium Enterprises that Prioritize Employee Wellbeing Stand Out when It Comes to Attracting and Retaining Talent
Companies of all kinds are struggling to recruit and retain personnel as a result of the 'Great Resignation,' but small-medium firms, in particular, are finding it difficult.
In Guardian's How Small Businesses Are Emerging From COVID-19 survey, workers at small-medium firms who claimed they were "happy or very happy at my job" fell to 48%, down from 55% in 2019, and just 36% said their company provides adequate mental health support, according to the latest data.
"Despite the challenges that small businesses have faced during the pandemic, the silver lining in our research shows that the businesses who have remained thriving and surviving have done so because of their ability to meet the needs of their employees with flexible work policies, voluntary benefits, and wellness programs," said Head of Group Benefits at Guardian, Chris Smith. "While we understand that the Great Resignation adds another layer of complexity, our research validates that with the right solutions, small businesses can be as competitive as large employers in their effort to attract talent."
To combat the issue, over half of small firms (46%) now provide wellness programs, up from 23% in 2018. Even though the pandemic caused small businesses to focus more on their employees' well-being, two-thirds of small-medium employers (66%) did not make any changes to their benefit offerings as a result of COVID-19.
SMEs have an excellent opportunity to recruit top talent since a sizable proportion of the workforce ignores large corporation wages in favor of firms that offer a better workplace culture. They must deliver on employee wellbeing, and calling on experts in the field is part of that. It's time to get on board with employee wellness programs.
Where Blisspot Can Help – An Effective Wellbeing Solution
Investing in employee wellbeing is an essential factor in retaining and attracting talent. That's where Blisspot comes in. We have seen that a one-size-fits-all approach is ineffective. We have over 160 resources available, from over 80 global experts on all areas of wellness, from managing stress, improving sleep, relationships, nutrition, and exercise.
In these trying times, we want Blisspot and all its resources to be available to all. We're currently offering free demos for all companies, and a full-access price of just AUS $15 a month.
Blisspot is an easy, accessible, and affordable way to support you and your teams with whatever they need for their wellbeing so that you and your business can grow and thrive.
Try out some of our free world-class tools and resources and see how they could help keep your people happy and committed to the job. With so many benefits to your employees' productivity, loyalty, and happiness, investment in a wellness program is well worth it.
Enter your details below to arrange a demo today, gaining free access to world-leading resources and expertise.