The Ultimate Rice Bowl is my own special recipe for a delicious vegan/vegetarian meal. It's the perfect blend of warm, chewy, crunchy, and savoury. It's also very easy to make — no special cooking skill required.
This recipe is for a single serving of a very filling meal. If you want to make a smaller or bigger batch, feel free to adjust the ingredients proportionally.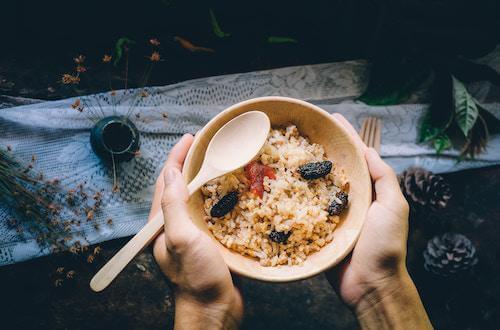 Step by Step Guide:
Ingredients
1-2 cups cooked brown rice, depending on how hungry you are
1/3 cup diced cucumber (I prefer English cucumbers)
1 small tomato, diced (I normally use a Roma tomato)
4-5 sun-dried tomatoes, each cut into 6-8 pieces (The best are Mediterranean Organic Sundried Tomatoes)
1/4 – 1/2 avocado, diced
2-4 tbsp minced green onion
1-2 tsp toasted sesame oil (I use Spectrum Naturals Organic Sesame Oil)
tamari to taste (a few splashes with a shaker bottle)
1 tbsp sesame seeds (raw or toasted)
Instructions
Put the rice in a bowl.
Add sesame oil, tamari, and sesame seeds. Use a fork to mix.
Add cucumber, tomato, sun-dried tomatoes, avocado, and green onion. Mix again.
Enjoy!
Variations
Add 1 tsp mirin for a sweeter flavour (when you add the sesame oil, tamari, and sesame seeds)
Add 1/3 cup bok choy, chopped
Substitute regular soy sauce or shoyu for tamari
If you like a strong onion flavour, try using minced white, brown, or red onion instead of green onion
You can certainly make this with leftover rice, but I suggest heating the rice first since this dish is best served warm.
I must caution you that this can be an addictive recipe. Once you try it, expect to make it often!
Article Source: http://www.stevepavlina.com/
Article by Steve Pavlina