10 Ways Investing in Employee Wellbeing Benefits Your Business
Why Wellbeing is Big for Small and Medium-Sized Businesses (SMBs)
Sickness absence is costing businesses a staggering $1 trillion in productivity each year. The expense of poor workplace health and wellness has reached an all-time critical high for businesses.
Employers are quickly realizing that caring for their employees' wellbeing is not just the right thing to do, it also makes complete commercial sense. As a result, more SMBs are implementing workplace wellness programs to improve employee health.
Traditionally, employee wellbeing programs were mostly in the domain of large corporations, who understand the importance of achieving a positive Return on Investment (ROI) from their most valuable asset—people. Smaller businesses frequently miss a professionally executed program that can deliver business benefits. Therefore, while workplace culture has progressed in mental health and wellbeing, Small Medium Enterprises (SMEs) still have a long way to go.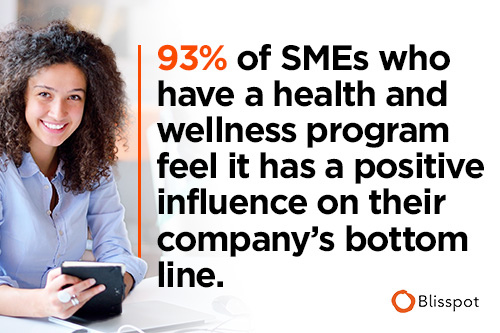 Let's look at the evidence. 93% of SMEs who have a health and wellness program feel it has a positive influence on their company's bottom line.
Despite this, only just under a quarter of small firms (22%) have health and wellness initiatives. It seems that SME decision-makers and workers are not on the same page when it comes to wellbeing at work.
Many SMEs cited budget restrictions as a reason for not implementing more formal efforts. It's easy to see how investing in employee well-being can seem far down the list of priorities for businesses already under financial hardship because of the pandemic.
So, what is the truth in this situation? Can wellness initiatives assist companies in reducing the financial costs of poor health? The emphatic answer is yes.
A significant 58% of workers feel that greater attention on their wellbeing will improve the quality of their work. Employees that are happier and healthier contribute to a more appealing work environment; a workplace that is conducive to increased production.
People who work in an environment that prioritizes their wellbeing remain with the company longer, reducing staff turnover and saving hiring and training costs. The company also attracts and recruits better employees. Plus, employees who feel appreciated by their employer put more effort into their tasks, resulting in higher-quality work.
Because sickness and absence cost US firms $530 billion, it's no wonder that workplace health has become a big subject. Employees who are sick not only drain money in terms of sick days and lost productivity, they also lower morale and may cause dissatisfied customers.
Some skeptics argue the benefits do not always outweigh the costs. However, the numbers tell us differently. The costs of not having wellbeing at work are far greater and the benefits of a happy, healthy, motivated workforce are significant.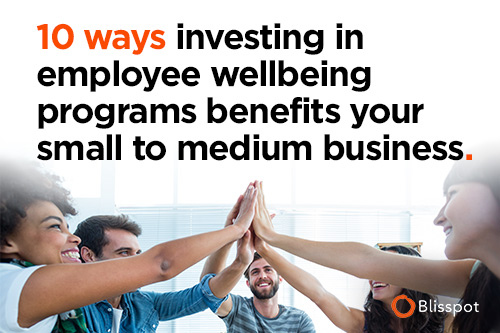 10 Ways Investing in Employee Wellbeing Programs Benefits Your Small to Medium Business
Let's look at some reasons why investing in your staff will pay off in the long run, in addition to improving your bottom line.
Here's the business case and top ten reasons SMEs need a workplace wellbeing program.
Yields a 6:1 Return On Investment (ROI)
In a study on the ROI of employee wellness programs, Harvard researchers concluded that, on average, for every dollar spent on employee wellness, medical costs fall $3.27 and absenteeism drops $2.73. This is a 6:1 return on investment.
Small firms who invest in wellness experience financial savings in addition to the traditional ROI indicators. They may see a reduction in workers' compensation costs, for example. Employers that show that they care about their employees' health will usually always get a better return.
Understanding worker requirements and organizational risk factors, as well as establishing a proper support plan for employees with a more unique risk profile, may help minimize absenteeism, enhance team productivity, reduce occupational illness, and cut turnover rates. This generates financial gains, so you can consider any action taken in this area an investment and not an expense.
Boosts Employee Productivity
Employee absenteeism, increased overtime to cover missing employees, and expenditures to train replacement staff can all be used to calculate cost savings. Similarly, wellness initiatives can diminish presenteeism, which is defined as the degree to which health symptoms and illnesses negatively impact the productivity of those who choose to stay at work. Employees that feel acknowledged and valued by their employers will work harder and produce better work. Happy workers are more productive.
According to Personnel Today, there is substantial data to support the relationship between workplace happiness and productivity, concluding that, "There is a business case for action, a moral case, and a taxation case".
Less Sick Days or "Time-off"
Companies with fewer employees are more likely to notice one person's absence when they use sick days.
Consider this, someone who does many jobs at your company will be dearly missed if they need to take time away. Work responsibilities cannot always be absorbed by others when an SME employee is absent, since they may not have the expertise or the time to finish the work. This leads to a big disruption in productivity.
This is another reason a wellness program would increase not only workplace wellbeing but also staff productivity. Because there are fewer employees, even one absence may have a significant impact. If present employees are forced to pick up more work as a result of their absence, this might add to the workload strain. This increased pressure might cause stress and other health problems, and possibly, even more staff absence.
You can assist employees in becoming healthier and less prone to face health problems by adopting a wellness program.
Reduces Presenteeism
Employees who show up to work sick or poorly because they are afraid of losing their employment or believe they must work despite their illness is an issue known as presenteeism.
Presenteeism, according to Investopedia, not only reduces productivity but also increases the risk of accidents. By incorporating an employee wellness program into your company, you are demonstrating to your employees you value their physical and emotional wellbeing. The Institute for Employment Studies (IES) reports that presenteeism is an epidemic on the rise.
Employees that arrive at work when they are not completely well cannot perform at their best, which will have a negative influence on their coworkers. Almost half of SME employees (46%) said they would continue working even if they were sick. In connection with this, 18% of employees stated they felt bad spending time away from their desk for lunch, and 27% said they send and receive emails outside of business hours.
New ways of working remotely with technology available 24/7 have blurred the line between work and home life, which can lead to people feeling overwhelmed, overloaded, and unable to take time out away from work. By giving employees the ability to prioritize their wellbeing, through supportive resources, you are empowering them to be happier, healthier, and more productive in the long term.
Relieves Stress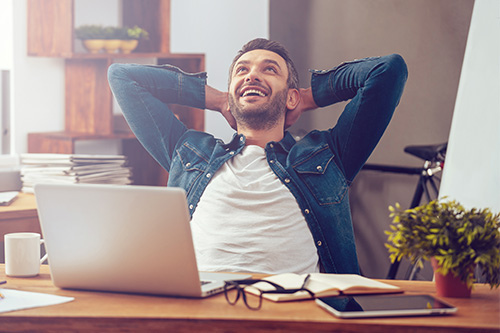 According to research by Medline plus, being under stress at work, home, and in relationships can have major health consequences. While some may believe that SMB employees are under less stress than those who work for bigger corporations, Total Wellness points out that employees in smaller enterprises are more likely to wear many hats and do various tasks than those who work for larger corporations.
Although practically everyone acknowledges stress as a contributor to low mood, many individuals accept it as a condition of life. People aren't supposed to be stressed all the time and this can lead to burnout, illness, and disease.
88% of founders are extremely stressed, according to a study by KPMG in 2018, which was even before the pandemic added even more stressful challenges. A quarter (24%) of SME employees said they have experienced job-related stress or anxiety, but only 15% agreed that their company has a culture that supports mental health.
Including a wellness program can assist your employees in dealing with their daily stresses by raising awareness and encouraging dialogue. A wellness plan is a win for your employees and a win for your organization since it reduces stress and burnout.
Find and Keep the Best People
When it comes to hiring new workers and enticing top talent, diversified and inventive wellness programs can be a powerful marketing tool.
When programs are designed with employees' needs and interests in mind, they can help keep existing employees and foster long-term employee loyalty. According to research by Small Business Trends, employees like workplace health initiatives and consider them vital perks. As a result, implementing a successful workplace wellness program will not only make your existing employees happier, healthier, and more productive, but it will also make your company more appealing to talented, passionate individuals.
When deciding to create a wellness program, keep the future in mind, especially the individuals you want to attract to your firm. These people, particularly those with genuine skill, are well-versed in what they would like from their company's perks. A wellbeing program can make it more likely that the skilled, enthusiastic, and talented people you want also want to join your team.
SME Wellness Can be Very Affordable
You don't have to be a major corporation with great financial resources to start a successful wellbeing plan. Well-designed plans with minimal investment levels can yield returns six times greater than other more costly health programs. As a result, small and medium-sized businesses may give wellness programs to their employees and achieve outstanding financial and health-related benefits.
These large-scale workplace wellness initiatives often need full-time wellness professionals, facilities, equipment, and hefty incentive packages. But the cost of effective wellness programs has been considerably decreased due to the development of new digital technologies, web-based techniques, and the capacity to connect via mobile devices. Blisspot wellbeing solutions start from just AUS $15 per employee per month. What was exclusively available to the largest and most powerful firms as an employee perk is now available to SMEs for a very affordable investment.
Fosters Employee Loyalty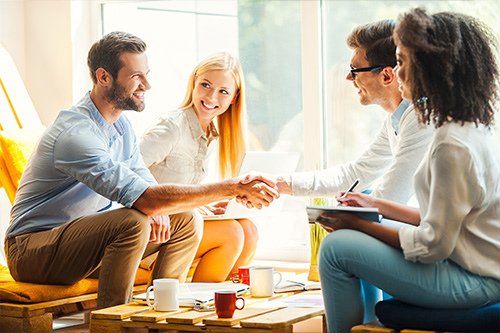 Employees who do not feel noticed or valued at work may contemplate quitting.
You can build a bridge of loyalty by showing your employees that you care about their physical and emotional wellbeing, which is something you shouldn't overlook, especially if you're a small or medium-sized organization.
As an SME business owner, one of the best things you can provide your staff is a personal relationship. Offering them a personalized health initiative, such as a wellness program, demonstrates that you care about them as individuals, not just their productivity in the office. They will care about you in return and repay your investment by being loyal to your firm, working with you for longer, and giving you greater levels of concentration and attention. At the end of the day, you'll want your employees to think well of you and your company.
Improvement of Company Image and Reputation
All of this good energy from the organization means that, on the one hand, employees may be the company's principal ambassadors, and on the other hand, the public will regard the firm as caring and devoted to its people. This will lead to an enhanced reputation and a stronger ability to recruit top people, both of which are critical for the success of a small or medium-sized business. It will appeal to potential customers as well. It's critical to lead by example and instill healthy wellness practices in the workplace.
Benefit Your Employees
As we've seen, a wellness program may help your small business in a variety of ways. According to the Wall Street Journal, while deciding whether or not to create a wellness program, you should prioritize the benefits to your employees. Your employees devote at least 40 hours a week to your company—and, as is the case with many small firms, possibly a lot more—so they deserve a few incentives in return. When employees have the chance to focus on their wellbeing, they are happier and healthier, and as an employer, this is a fantastic gift to provide.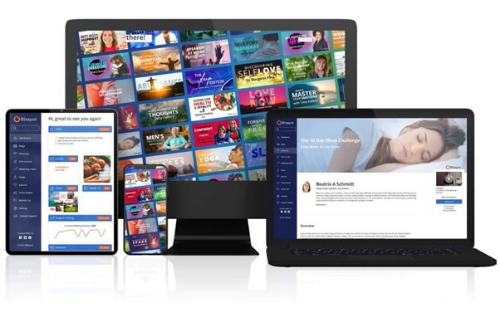 Could Blisspot Help Your Business?
Blisspot supports personal and business success by sharing quality online wellbeing resources that are accessible and affordable.
SMEs often do not have the resources for a dedicated wellbeing or HR department. Outsource the wellbeing of your workforce to the experts and empower your employees to be their best to give you their best.
Receive in-depth wellbeing solutions from world-leading wellness leaders sharing online courses, trainings, podcasts, and meditations—through to customized support in one-on-one sessions with coaches, counselors, and psychologists.
Take your business to the next level by providing top wellbeing support for your team.
Visit Blisspot to learn more about worksite wellness programs for your company. With so many benefits to your employees' productivity, loyalty, and happiness, investment in a wellness program is well worth it.
Learn more about Blisspot's wellness options and the benefits on offer, and start helping your employees live well and stay healthy. Blisspot boosts your team's wellbeing, which can improve productivity, and support your business to grow and thrive.
Blisspot would love you to book a demo to share how we can boost your company's productivity and profitability. Enter your details to arrange a demo today.