Connecting and relaxing at a picnic with family and friends can mean more than just gathering. It can be an "event", in a relaxed informal way that takes the pressure off anyone entertaining and all the rigmarole it can take to have a dinner party at home. Not to mention the benefit of getting outdoors and immersing yourself in nature where most people automatically relax and feel more connected to their inner calm.
A picnic is more than eating a meal,
it is a pleasurable state of mind
– DeeDee Stovel
Making your picnic as creative as possible can be loads of fun, as well as rewarding when your fellow picnickers are surprised and delighted by your food choices.
Food ideas to make you into a picnic superstar:
1. Green Cabbage and Parmesan Coleslaw
Ingredients
1 Medium Green Cabbage (Approx. 700g)
4 tbsp Lemon Juice
6 tbsp Extra Virgin Olive Oil
¾ tsp Salt
20 Large fresh Basil leaves, chopped
75g Parmesan, grated
Balsamic Vinegar for drizzling
Method
Remove the tough, dark green outer leaves from the cabbage. Cut the cabbage in half or quarters (depending on its size), cut away the core. If the leaves have thick central stems, separate them and strip the leaves away from the stems. Discard the stems, bundle up the leaves and slice them across as thinly as you can. You should be left with about 600g shredded cabbage.
Whisk the lemon juice, olive oil and salt together to make a dressing. Season to taste with ground black pepper.
Put the cabbage into a large serving bowl with the basil and toss together briefly, then pour over the dressing and toss together well. Add the Parmesan and drizzle with a little balsamic vinegar.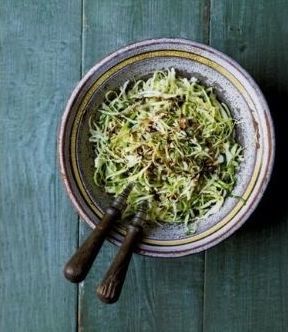 2. The Lord of Loaves
Ingredients
1 Crusty Cob Loaf
1 Garlic halved
2 tbsp pesto
Filling Ingredients
2 courgettes (zucchini), sliced
2 of each red and yellow peppers, sliced
2 tbsp olive oil
200g cheese of your choice
200g sliced cold cut meats or ham
A handful of salad leaves
2 tbsp salt and pepper
Method
Carefully cut the top off the cob loaf (save this for later) and hollow out the middle to leave a shell. Don't make the walls too thin as it won't stay crisp.
Toss the courgettes and peppers in the olive oil and put on a preheated griddle or BBQ grid. Cook for about 4–5 mins on each side until soft and lightly charred. Put to one side to cool.
Rub the cut garlic clove over the insides of the bread shell, then use a spoon to spread the pesto all around the inside walls and under the lid.
Blot the grilled veg with kitchen roll, then slice the cheese. Season both well with salt and pepper. Start building up layers of veg, cheese, meat and salad leaves. Finish with a layer of basil leaves. Fill the hollow of the bread up to the top.
Put the top of the bread back on, then wrap the whole thing tightly in Clingfilm. Put a plate on top and weigh down with something heavy to let the flavours fuse together for at least 2 hours, or preferably overnight, in a cool-box.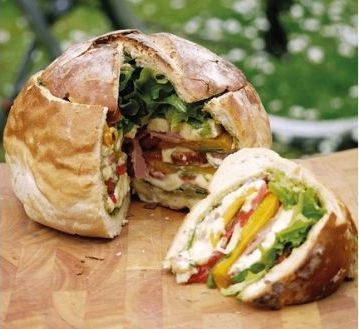 3. Blink of a meatloaf
Ingredients
500g Ground Beef
1 cup of Breadcrumbs
1 Egg
½ cup Milk and ? cup Ketchup (Tomato Sauce)
½ chopped Onion
1 tbsp Mustard and Brown Sugar
Salt and Pepper to taste
Method
Preheat an oven to 175°C (350°F)
In a large bowl mix ground beef, breadcrumbs, onion, milk, egg, salt and pepper. Use two hands to mix it well.
In a separate bowl, mix ketchup, mustard and brown sugar.
Lightly grease a shallow baking pan, and shape beef mixture and bake in the oven for 45-55 minutes. Take it to your picnic sliced and serve it with either dinner rolls, flatbread and salad.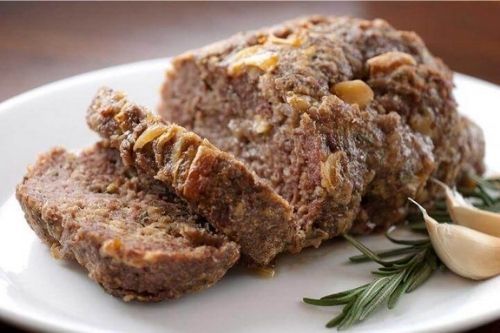 If you are still looking for more food, or maybe you want to swap a dish out why not check out this tasty orange and walnut salad. It can be such a fun and relaxed thing to get together with your family and friends for a picnic. Enjoy the great outdoors and special times together.