How do we get through challenging times? The first thing we have to do is to culture and nurture our mental and emotional wellbeing. How we feel about ourselves can impact all other areas of our life including our health, relationships, and career. When we practice self-care and take responsibility for our mental and emotional state, we are better able to support those in need and make a positive difference.
I developed a Stay Strong Infographic for World Mental Health Day (see below). These simple and time-efficient steps can support your wellbeing on a daily basis and are now more relevant than ever during these changing times! Many of the ideas may involve doing things you love or things that nurture you—where focus goes energy flows. When you look after your mind and body it will nurture and support you. Creating a life that you love involves doing more of the things you love, and surrounding yourself with people you love.
I practice all of these things myself when possible, for example sitting in the sun when the sun is shining! I have the Stay Strong infographic laminated and in my shower to remind me of these simple actions that make a big difference to how I feel, on a daily basis.
These things will support your wellbeing journey, however, remember if you are overly reactive, experiencing very strong emotions or your thoughts are constantly overwhelming—reach out and get the support you need. Reaching out to a trusted friend or professional (and there is lots of free government support in many countries) is a sign of strength that you want the best for yourself, and can be an important step in you moving towards feeling happy more consistently.
If you are having trouble maintaining any of these practices, remember that your mind loves the familiar. Your mind will take you back to any former negative ways of being where it feels comfortable. That is until you retrain your mind by practising new habits consistently, to replace your former patterns with practices that support your happiness and health. Joy, vitality, and connection can become your new normal!
Stay Strong
Nurture your health, happiness, and success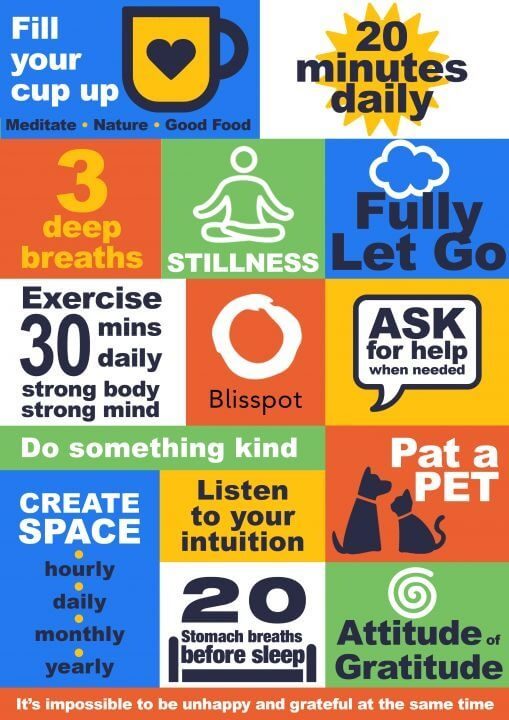 I am sure that you also have many practices that support your wellbeing. I would love you to comment about them below and I will incorporate them into a new Blisspot Members Infographic and share it.