Ingredients
Makes 12 to 14 mini Pancakes
1 ¾ cups unbleached all-purpose flour
3 tablespoons packed light brown sugar
1 tablespoon baking powder
2 tablespoons flax meal
Pinch of ground cinnamon
3 eggs
1 teaspoon vanilla extract
1 tablespoon unsalted butter, softened
1 cup milk
4 strawberries, cut widthwise into thin slices
2 kiwis, peeled and sliced width-wise into circles
¼ cup blueberries
4 skewers
Cooking with kids is not just about ingredients, recipes, and cooking.
It's about harnessing imagination, empowerment, and creativity
~Guy Fieri
Method
Step 1
Combine the flour, brown sugar, baking powder, flax meal and cinnamon powder. Try to involve your child as much as you can! It's important for your child to be part of cooking from the first stage! Let them know they're the one who is starting off. It will teach your child about a sense of responsibility and understanding of the cooking procedure.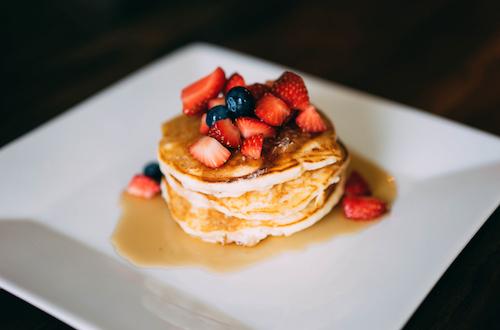 Step 2
Combine eggs and vanilla in a mixing bowl. Add the butter and milk. Slowly add the egg mixture to the flour mixture. Stir until all the mixture is smooth and creamy. Chill in the freezer for 5 minutes.
Step 1 and step 2 should mainly be done by your child because the first two steps exclude any dangerous procedures.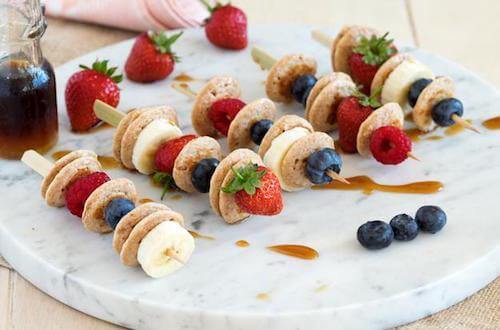 Step 3
Preheat a non-stick pan to low. Lightly spread butter on the pan, so it slightly covers the pan. Ladle the pancake mixture onto the pan to make 2-inch mini pancakes.
Step 4
When the pancakes start bubbling and the edges turn golden brown, flip them over. Cook on the other side for one to two more minutes, until the pancakes come off the pan easily with a spatula.
Step 5
Layer the pancakes and fruits on the skewers. Dip in maple syrup and eat one layer at a time. You can let your child choose which fruit they want to eat! After all, it's their dish!
The Benefits of Cooking with Your Child
Having fun with your child in the kitchen builds positive memories, good vibes and a relaxed atmosphere. Cooking also allows kids to get instant feedback, which helps their self-esteem and also enables them to learn and grow in self-knowledge.