"Imagine a gender equal world. A world free of bias, stereotypes, and discrimination. A world that is diverse, equitable, and inclusive. A world where difference is valued and celebrated. Together we can forge women's equality. Collectively we can all #BreakTheBias." ~ International Women's Day, 2022.
8 March 2022 is International Women's Day (IWD), which invites you to imagine a gender equal world free of bias, stereotypes and discrimination.
It is a global day of celebrating the achievements of women, to raise awareness against bias, and a call to action to promote equality.
There is a lot to celebrate and recognise in all the people who make the world better just by being them, by showing up and sharing their gifts, talents, and wisdom with the world.
Blisspot is running a FREE Empowerment Masterclass for IWD [invitation below].
We want to promote a world of inclusivity and diversity, a world of wellbeing where everyone's unique qualities are recognized as what makes them special.
"Break The Bias" is the theme for 2022, which provides a meaningful framework to connect, take action to challenge inequality, and support inclusivity.
Break The Bias.
International Women's Day states "Whether deliberate or unconscious, bias makes it difficult for women to move ahead. Knowing that bias exists isn't enough, action is needed to level the playing field.
Are you in? Will you actively call out gender bias, discrimination and stereotyping each time you see it?
Will you help break the bias?"
IWD are asking everyone to strike a pose of crossed arms to show solidarity against gender bias.
Tag your photos #IWD2022 #BreakTheBias.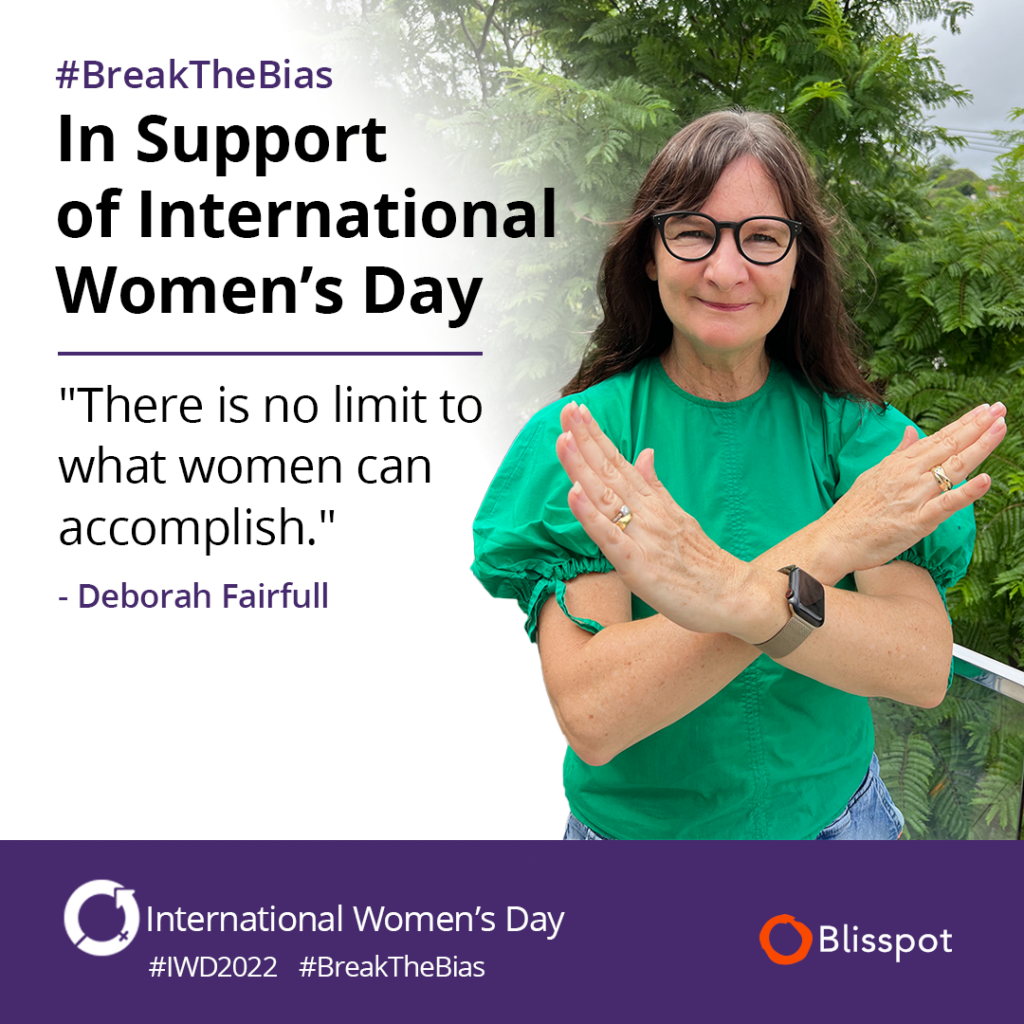 What are your goals for International Women's Day?
Celebrating women's achievements
Raise awareness
Smash stereotypes
Challenge a bias
Fundraising for causes you care about
What action will you take?
Strike a pose for IWD
Post your support on social media
Join an event
Support female-focused activity
Share useful inspiring resources
Celebrate the women you know
Whatever you decide to do this International Women's Day, you can be part of a global movement committed to an inclusive world.
You are Invited to Join us.
Blisspot will be running a FREE Empowerment Masterclass to give everyone access to confidence coaching and the top tools and techniques to build the future you want.
Empower a better future for yourself and others.
Build the future you want with these fabulous female confidence coaches and empowerment experts sharing practical tools and techniques you can enjoy straight away to start feeling the benefits.
Anne McKeown, Mindset Coach, and Author
Anne is a highly regarded Master NLP Life Coach on a mission to empower others to find their inner strength and their authentic self. She will passionately equip you to take back control of your life without feeling guilty or sacrificing your treasured values.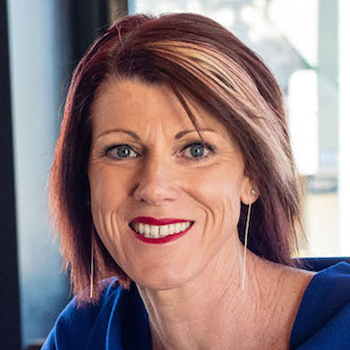 Jodie Bruce-Clarke, Author and Confidence Coach
Jodie is passionate to help ALL women make confidence their new normal. Over the last 20 years, Jodie has taught many clients and audiences her key message—that confidence is a skill that can be learned, practiced, and mastered and is accessible to everyone. She will empower your confidence.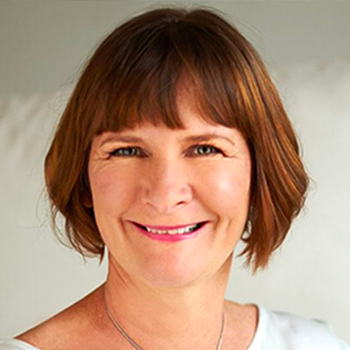 Deborah Fairfull, Author, Speaker and Founder of Blisspot
Deborah believes in the power of each individual and is committed to the ongoing improvement of the world we live in. Deborah is passionate about empowering you to connect to true peace and happiness, to return to your natural state of wellness.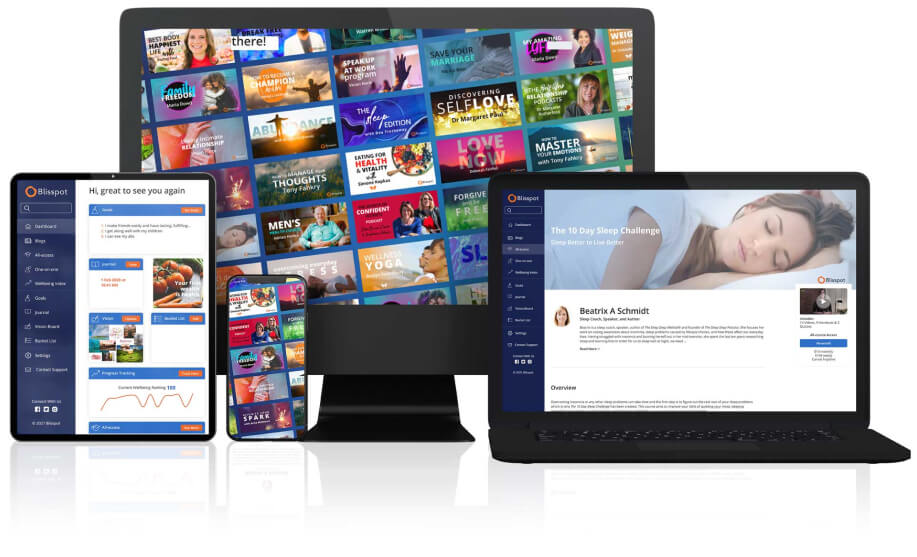 Blisspot is proud to be an inclusive global community of exceptional people.
Blisspot is proud to recognize and celebrate all the wonderful people in our global community, including all the exceptional and talented females who are making the world a better place.
Blisspot's incredible team of passionate wellbeing women, include Ana Holub, receiver of the Worldwide Forgiveness Alliance Award; Dr. Margaret Paul, an international best-selling author who has appeared on Oprah; and Beatrix Schmidt, the internationally renowned sleep educator who will be running a free Blisspot masterclass in April 2022.
Join the experts live and completely free of charge in our monthly masterclasses to put your questions to the experts and get the answers you need to support optimum health and happiness.
Your personal playground of wellbeing.
Blisspot also provides a range of free tools to explore and enjoy, including the internationally renowned Personal Wellbeing Index, Goal Setting tools, an online gratitude journal, bucket list and vision board.
There is no greater gift than health and wellbeing
Blisspot is on a mission to empower wellbeing for life and to share the very best resources and expertise to support a world of wellbeing accessible and available to all.
Enjoy a spot of bliss and share the gift of bliss with others with our compliments.